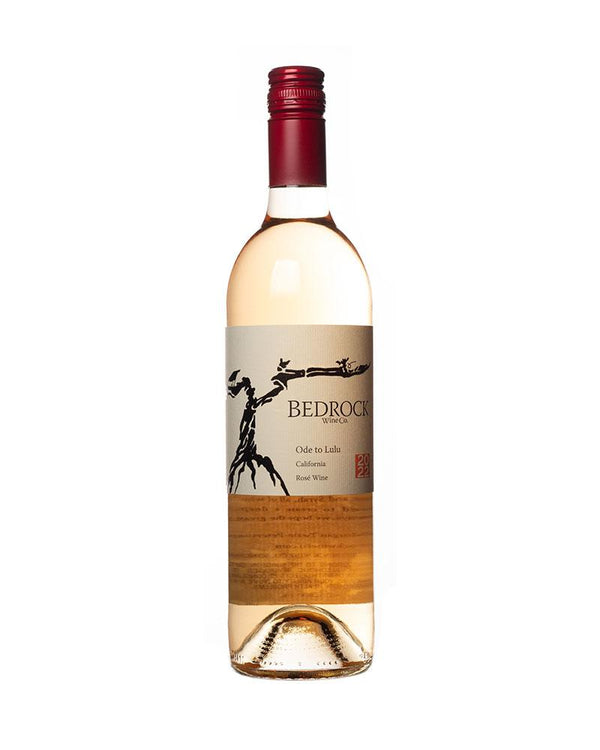 2022 Bedrock Wine Co. Rose Ode to Lulu
92 points, Antonio Galloni/Vinous

"Bedrock's 2022 Rose Ode to Lulu, a blend of Mourvedre, Grenache and Syrah is one of the more complete Roses readers will come across. Deep and beautifully layered, Ode to Lulu is a complex wine that will be at home as an aperitif or as a companion at the dinner table. Rich, red-toned fruit, crushed flowers and subtle earthy notes all open effortlessly."
Made as an hommage to the famous Bandol Rosé from Domaine Tempier and their matriarch, the late Lulu Peyraud, the Ode to Lulu wins our hearts year after year. It's made from old-vine Mourvèdre grown in the sands of Contra Costa County. Winemaker Morgan Twain-Peterson supplements it with some Grenache and a bit of Cinsault, sourced from "nice sites" in Sonoma and El Dorado County.

When asked about his 2022 Ode to Lulu Rosé, Morgan commented, "Never did I think, when I whole-cluster pressed a couple of tons of Bedrock Mourvedre 15 years ago, that it would become one of the most popular wines we make. One thing I did know then still holds true though- we, as a winery crew, drink more of this than any other wine we make. Over the last decade and a half we have learned a lot about making this wine and the intricacies of making great rosé- of finding the balance between mouthwatering freshness and fruit weight, of finding that beautiful drop of grapefruit, stone fruit and tarragon-like perfume that Mourvedre can provide, while also maintaining its lightness of color and being. We are extremely proud of the 2022."